Local Search Engine Optimization Services
Local Search Engine Optimization deals with the critical steps and tasks needed for local businesses to get leads and customers in their local service area. There are 4 main elements.  1) optimizing your website, or building a strong web presence - if you don't have one; 2) getting listed properly in the local search engines (Google, Yahoo, Bing, Yelp, BTW, etc.); 3) Driving traffic to the local site, and converting that traffic to customers; 4) training and consulting support.
Why Your Business Should Invest in Local Search Optimization (Local SEO)
70% of US households are using the Internet to find products and services local to them;
51% of searchers research online, then shop locally;
Google states a business is 30X more likely to get leads and customers online than from a Yellow Page ad;
the growth of mobile devices will only make the above 3 statements grow in number and importance;
diving into the details of local SEO by doing so yourself is often confusing, time-consuming, intimidating, and wrong.  It's time consuming to fix a bad start;
Breaking Down the 4 Steps of Local SEO
1. Having a Web Site & Optimizing Your Site
Your website is the most important factor in your ability to rank well for local searches.  Attorneys, doctors, dentists, plastic surgeons, contractors, retail stores, therapists, and almost all local businesses must have a strong Internet presence to found by millions of potential customers in their  service area.  If you don't rank in the top local results, you will be losing business to your competitors.  If you don't have a website, or an optimized website - then you are not even on Google's "radar screen".
2. Getting Listed Properly in the Local Search Engines
Getting listed in the search engines, and in important business indexes related to your target market is key.  A well developed Google+ Local page is the most important of these listings.  However, there are penalties for NOT developing listings the right way.  Mistakes could be accidental, or they may just occur by not being aware of proper listing guidelines.  Either way, they will put your business at a disadvantage!
Proper listings will determine how well you rank in your local market.  Those listings always include 3rd party data like citations, reviews, and links.  Also, the amount of information a search engine already has about your business and knowing how to get that information and correct it will play a significant role in your ability to rank well.  Being listed in the right places strengthens your credibility in Google's eyes.
3. Driving Traffic to Your Site & Conversion Traffic to Customers
Having more eyeballs look at your web pages is a matter of funneling traffic to your site.  This can be a combination of off-site traditional marketing, online advertising (Google AdWords, Facebook, etc.), and social media engagement (Google+, Twitter, Facebook Fan Pages, etc.).  Converting that traffic into paid customers is dependent on the strength of the content on your web pages, social proof, trust, and how well you've connected with your target market.  That's a lot to undertake.  The foundation of a good local search optimization campaigns requires a comprehensive competitive analysis to see how well optimized your competitors are.  When that's done, you'll know how much work there is to do and in what areas.
 4. Training and Consulting Support
Establishing a strong local search presence is a lot of hard work, and like everything else - needs to monitored.  If you can't measure it, you can't prove it!  A combination of Keyword Research, Web Site Rank Tools, Google Webmaster Tools, and Google Analytics must be used to check and monitor progress.  The tools used and the degree to which results are monitored are dependent on the complexity of the local search project.  
Upon completion of the initial 3 steps above plus setting up the tools for monitoring progress, a local search project can be reduced to regular maintenance.  This is the time when your business may decide to bring the effort in-house.  Training to use the tools, monitor results, and deal with any new, unknown issues are often part of a local search program.  Should your business decide to keep the program outsourced, we are available to help.
Example Google Local Search Result for "Divorce Attorney Chicago Illinois"
In the below images, the first image with the red ballons shows the 7 pack listing on top of a detailed Chicago city street map.  The message here is that there are only 7 ballon listings, called the Google 7 Pack.  If your business is one of the 7 listed, you are ranking well.  Obviously, the higher the placement A-G, the better your situation.  The second image details the 7 pack by firm name and other description information served by Google.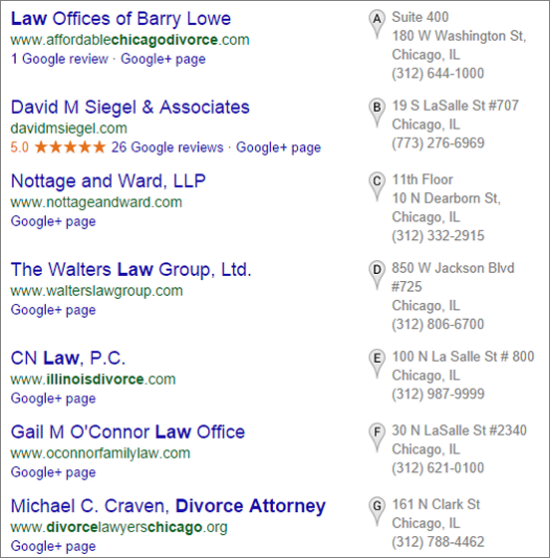 Incredible Competitive Advantage!
You will have an incredible advantage over your competition with a well developed Google Local Search campaign. The great majority of local sites I review are making critical mistakes that prevent them from ranking well!  I'm happy to share my process for getting in the top Google 7 pack with you. But this type of project isn't for everyone. Here are the criteria for those I CAN HELP:
1. You must have a LOCAL business! You need to have a store or office and be serving local clients.
2. You must be in business already.  This is not for brand new businesses, or those thinking of starting.
3. You must have a good reputation, and offer good quality products or services.  I can NOT manage a poor reputation!
4. You must follow my directions and take action.  If you don't take action, you won't get results!
Next Step:
Click the Local SEO Project button below. You'll be taken to a page where I'm going to ask for contact information and some business information.  I will also ask you for a small refundable deposit.  It's not that I need the deposit. I just need to separate the serious businesses from the "tire kickers"!
Once I receive the form information and the deposit, I'll get back to you to arrange a 1 hour local search strategy session by phone. So click the Get Started Now button below, and we'll see you on the next page.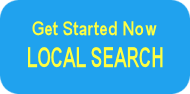 Local  Testimonial for Contempo Self Storage.